The Civil War Round Table of Greater Boston (est. 1957)
Please visit www.cwrtgb.com The Civil War Round Table of Greater Boston (est. 1957)
Please visit www.cwrtgb.com d/b/a/ The Civil War Round Tables of Massachusetts
Contact: Al Smith at ohjudyoh@yahoo.com or 617-484-5613
The CWRT of Central Mass.
The General Lander CWRT of Northshore/Lynn
The Greater New Bedford CWRTB
The Olde Colony CWRT
The CWRT of Cape Cod
The North Worcester County CWRT
******************************************************************
COME JOIN UP
Five Days in May 2019 Trip Highlights
Plans have been completed for another great and memorable Civil War trip. The trip is scheduled for May 15, 2019 through May 19, 2019. Some of the sites chosen for this trip are the very foundation of our democracy. Other sites that will be visited are a reminder of our American Civil War. We will visit the National Archives that houses the original Declaration of Independence, the Bill of Rights, the Constitution, the Gettysburg Address and Lincoln's Second Inaugural Address. These sites will only whet your appetite as we continue, our tour we will visit the Capitol Building and the Smithsonian National Museum of American History. Continuing, will be a visit to the Soldiers and Airmen's Home National Cemetery where we will lay a wreath at the grave of Major General John A. Logan, Commander-in-Chief of the Grand Army of the Republic buried alongside the graves of 27 graves of recipients of the Medal of Honor. The cemetery is included on the same property of Lincoln's summer home which we will also visit Included in this cram packed trip will be a visit to Newseum where we will experience the stories of yesteryear. A visit to the Clara Barton Missing Soldiers Office will also be visited along our journey. This is just a partial list of all the exciting sites that Washington D. C. has to offer. There are many other surprises that have been planned for this trip. In order to have the energy for such a great trip, we will enjoy a hearty breakfast at the Quality Inn Mt. Vernon Hotel in Alexandria, Va. for the 4 nights stay and dinners for 3 nights are included. Donations, guide fee, driver tip and admissions are also included. Transportation again will be by air-conditioned coach supplied by the McGinn Bus Co. Our tour guide for this great trip will be Kate Ramirez Taylor long remembered guide of our 2017 Escape Route of John Wilkes Booth trip. For those of you who missed that trip you will have an opportunity to see her on October 23, 2018 as she presents the story of Mary Surratt in New Bedford for the New Bedford Civil War Round Table. See their website (newbedfordcwrt.org). What would a Civil War trip be without a Civil War meeting. Therefore, we will hold a meeting on Saturday evening at the Lincoln Memorial and have as guest speaker Paul Severance, Ph.D. Professor of Military Science for the Dept. of Defense Strategy and Resourcing. Plus, much more .............. .

A $50.00 deposit will hold a reservation for this fantastic trip. Send your check payable to the Civil War Round Table of Greater Boston c/o AI Smith 11 Poplar St. Belmont, Mass. 02478. The total cost for this trip $865.00 for a single room and $660.00 each for a double room. If you have any questions, please contact AI at 617-484-5613 or at ohjudyoh@yahoo.com
*****************************************************************
Five Days in May 2018 Trip Highlights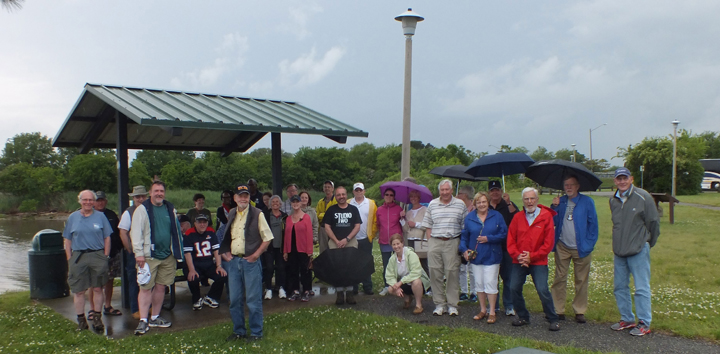 2018 Tour Group Photo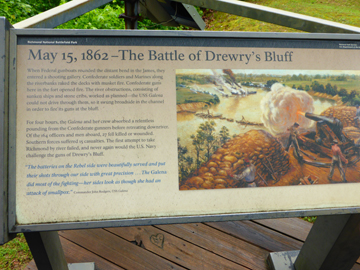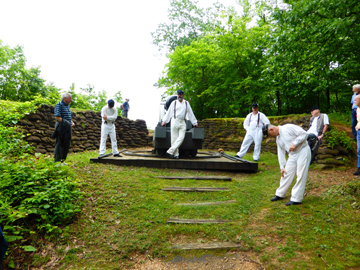 Confederate Marine Reenactors at Drewy's Bluff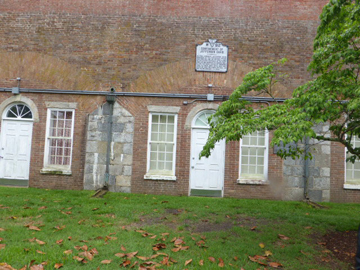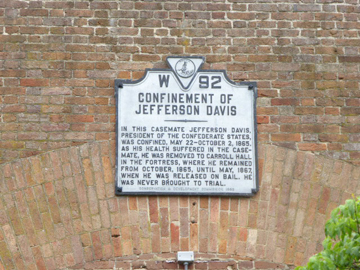 Confinement of Jefferson Davis at Fort Monroe

Summary of Trip
We arrived Wednesday night, May 16th in Waldorf Maryland where our accomadations were at a Super 8 Motel.
We got an early start Thursday morning where we visited the Mariners Museum to see the turret from the USS Monitor and many exhibits about the battle with the CSS Virginia and the final sinking of the USS Monitor as well many fascinating ship models. After lunch at the Barking Dog Cafe, we traveled to Fortress Monroe where we viewed where Jefferson Davis was confined after the war. Our final stop for the day was at the Monitor-Merrimack Overlook Park in Newport news VA where we learned about the famous Battle of Hampton Roads between the CSS Virginia and the USS Monitor. We had a delicious dinner at the Whaling Company restaurant before stopping for the night at the Governors Inn in historic Williamsburg. Joining us on Thursday was was Frank Kiley's daughter Janelle who accompanied her father to see the Mariners museum and Fortress Monroe and joined us for dinner Thurday night. She stayed to visit Williamsburg before heading home to Arlington Virginia. We enjoyed having her travel with us and hope that she may join us again on a future trip.
Our first stop Friday morning was at Grant's headquarters at City Point where we learned about naval activity on the James and Appomattox Rivers. Leaving City Point, we travelled to Point of Rocks on the Appomattox River where we learned about Appomattox River Raid and the difficulties both navies faced navigating on the river. We next had a delicious fun filled barbeque lunch at Ronnie's BBQ. Our final stop of the day was at Malvern Hill where we learned of the naval activity during the Peninsula Campaign. After returning to the Governors Inn, we again traveled to the Whaling Company restaurant for another great dinner.
Our first stop on Saturday was at Trent's Reach where we learned about the confederate navies unsuccessful last-ditch efforts to break Grant's siege of Petersburg by attempting to attack City Point and disrupting Grant's supply lines. Our next stop was at Drewry's Bluff where we met up with Confederate Navy reenactors who told us about the Battle of Drewry's Bluff where deadly cannon fire badly damaged the ironclad USS Galena and forced the Union navy to turn back. Our next stop was for lunch at a Cracker Barrel restaurant. Our final stop of the day was in Richmond where we learned about Lincoln travel to the city on April 4th and the difficulties he faced because of obstructions in the river. Our next stop was in Wilmington Delaware for a delicious dinner at Chelsea Tavern restaurant. Our final stop for the night was at the Days Inn in Newark Delaware after a most enjoyable funfilled day of touring.
On Sunday morning, we were treated to a bonus visit before heading home. We stopped at New Castle on the Delaware River where we learned about the history of the submarine USS Alligator.
My thanks to Alan Smolinski for sharing his group photo and to Al Smith for arranging another great bus trip.
*****************************************************************